Wal-Mart to pay $1b for China retailer
(Reuters)
Updated: 2007-02-27 15:38
HONG KONG/NEW YORK – Wal-Mart Stores Inc., the world's biggest retailer, will pay about US$1 billion to take over a Chinese chain, challenging Carrefour as the largest operator of super-centers in booming China.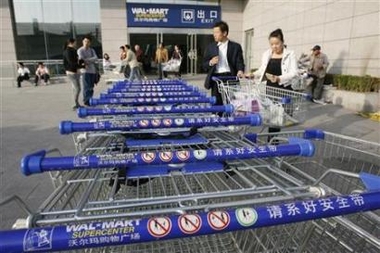 Shoppers emerge from a Wal-Mart Supercenter branch in Beijing October 17, 2006. [Reuters]


The acquisition of Bounteous Co. Ltd. by Bentonville, Arkansas-based Wal-Mart, will be done in phases by 2010 and could trigger much-needed consolidation in China's ferociously competitive US$1 trillion retail market.
Under terms of the deal, Wal-Mart is buying 35 percent of Taiwan-based Bounteous, which operates 101 hypermarkets in 34 Chinese cities under the Trust-Mart brand, and will acquire ownership control of the chain by 2010 if conditions are met.
Terms were not disclosed, but a source familiar with the situation said Wal-Mart will pay a total of US$1 billion for all of Bounteous.
"It's all about tiering and market share — Wal-Mart has a history of buying local operators, and this could make them No. 1 in China," said an analyst at a European investment bank in Hong Kong.
Wal-Mart already operates 73 stores in China and employs more than 37,000 people there.
France-based Carrefour, the world's No.2 retailer and the largest foreign operator in China, added 20 China stores last year to bring its total in the country to 90 by the year-end.
Other players include Germany's Metro AG, Britain's Tesco Plc. and local operators such as Wumart
Wal-Mart's China expansion follows exits last year from its operations in Germany and South Korea.
The company is also close to striking a joint venture with Bharti Enterprises to enter India, a fragmented retail market where foreign operators are restricted.
In a statement, Wal-Mart Vice Chairman Michael Duke called the China investment "an important step in bringing our additional scale to our China retail business."
Trust-Mart posted 2005 sales of about 13.2 billion yuan (US$1.7 billion) at its Chinese hypermarkets, according to the China Chain Store and Franchise Association, well above Wal-Mart's 9.9 billion yuan in its Chinese stores.
By comparison, Carrefour had 2005 sales of 17.4 billion yuan at its Chinese hypermarkets, while Metro recorded sales of 7.5 billion yuan, the data showed.
International expansion has grown more important for Wal-Mart as US sales growth slows. In its fiscal quarter ending January 31, total sales rose 10.9 percent to US$98.09 billion, but international sales rose 29.6 percent to US$22.73 billion. US sales at stores open at least one year rose 1.6 percent.
Trust-Mart stores employ more than 31,000 people, and will continue to operate under the Trust-Mart name, Wal-Mart said, with both companies continuing to open new stores.
Credit Suisse advised Wal-Mart on the transaction, and UBS advised Bounteous.